PLOVDIV 2020: The signing of the MoU for the 14thICCM International Conference
We are very pleased to announce the signing of the Memorandum of Understanding between the ICCM Foundation and the Municipality of Plovdid, which marks the beginning of a joint effort for the organisation of the 14thInternational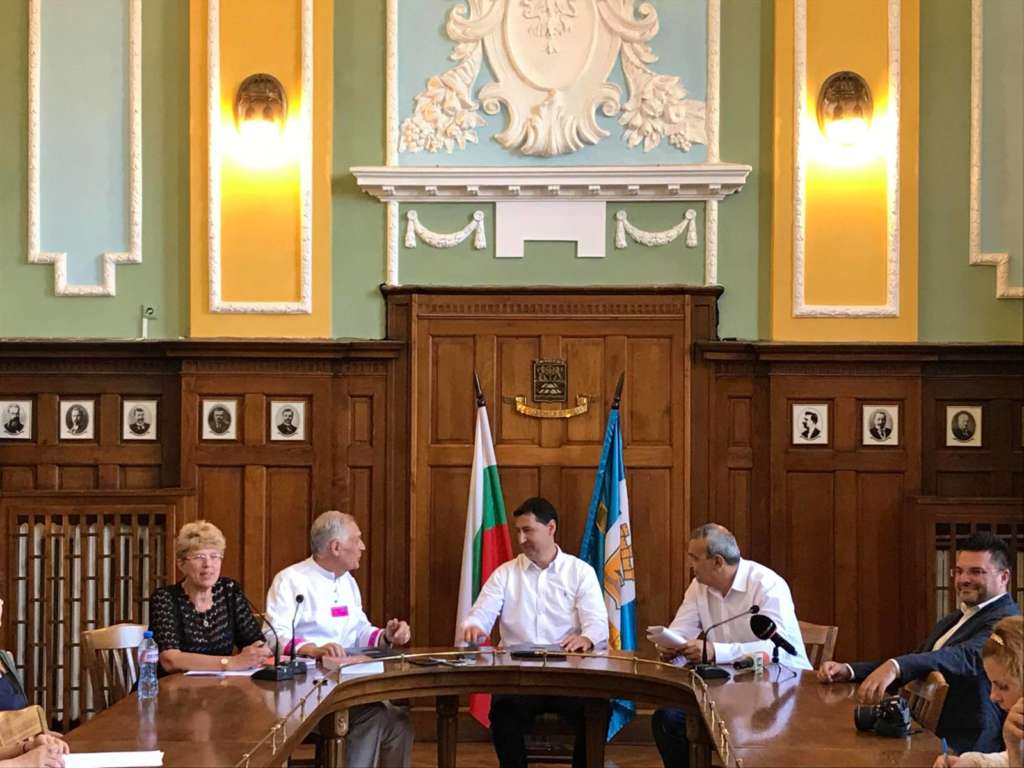 Conference for the Conservation of Mosaics in Plovdiv, Bulgaria in 2020. Following up on a successful meeting held in the city of Barcelona last October, this is the first time in the history of the ICCM that a Triennial Conference is organised in a non-Mediterranean Country.
The Memorandum of Understanding was singing on behalf of the institutions by Mr. Ivan Totev, Mayor of the Municipality of Plovdiv, and Gael de Guichen, Honorary President of the International Committee for the Conservation of Mosaics (ICCM Foundation). The ceremony was attended by a number of high level Government Officials, including Eng. Alexander Dirjikov, Deputy Mayor of Culture and Tourism of the Municipality of Plovdiv; Assoc. Prof. Elena Kanthereva-Decheva, Head of Restoration of mosaics from archaeological site Episcopal Basilica of Philippopolis and Chairperson of the Management Board of Bulgarian Cultural Traces Association, as well as Mr. Ivan Vassilev – Chairman of the Board of the Balkan Heritage Foundation, and Angela Pencheva, Programme director at the Balkan Heritage Foundation, and elected officer (secretary) of the ICCM Foundation Board.
In the framework of this event, The Mayor of Plovdiv, Ivan Totev highlighted that: "The Memorandum of Cooperation was adopted by the City Council in April 2018, and signifies our desire to promote the mosaics of Plovdiv. It also coincides with the timetable for our application of our candidature for the UNESCO Word Heritage List, which we believe it will be key in this process. We have the will and a strong commitment towards the conservation of our mosaic heritage. As of today [13/06/2018] we start the operative work on the organization of the conference. We will provide everything necessary for each successful realisation".
On behalf of ICCM Foundation, Gael de Guichen congratulated the local government for their efforts to preserve and valorise the cultural heritage of Plovdiv and stressed the twofold impact of such a collaboration: " The benefit is dual: from one hand it would be a great experience for the ICCM members to visit and learn more about the mosaic heritage of your land, and from the other hand it would be a unique opportunity for you to strengthen professional ties with specialists from neighbouring countries and distant parts of the world. This is a strategic goal with long term benefits".
ICCM would also like to thank the Balkan Heritage Foundation for their role in the cultivation of this collaboration.
The ceremony received high media coverage, while a number of articles are featuring the headlines of local and national broadcast agencies. Links to a number of those are listed below:
http://news.bnt.bg/bg/a/svetovni-restavratori-se-sbirat-v-plovdiv
http://www.focus-news.net/news/2018/06/13/2533599/plovdiv-mezhdunarodniyat-komitet-za-konservatsiya-i-restavratsiya-na-mozayki-i-obshtinata-podpisaha-memorandum-za-satrudnichestvo.html
https://dariknews.bg/regioni/plovdiv/podpisvat-memorandum-za-trienaleto-za-konservaciia-na-mozajki-2103006
https://www.plovdiv-online.com/plovdiv/item/92470-svetoven-forum-za-prav-pat-ne-e-v-strana-na-sredizemno-more
http://podtepeto.com/defile/nad-300-eksperti-po-konservaciyata-na-mozajki-ot-cyal-svyat-se-sbirat-v-plovdiv-prez-2020g/
http://plovdivtime.bg/news.php?id=3123&lang=en
https://trafficnews.bg/plovdiv/plovdiv-se-narezhda-perlite-evropa-bezpretsedenten-format-106927/
http://www.plovdivnews.bg/plovdiv/item/64802-mezhdunarodniyat-komitet-za-konservatziya-i-restavratziya-na-mozaiki-i-obshtina-plovdiv-podpisaha-memorandum-za-satrudnichestvo
https://www.plovdiv24.bg/novini/plovdiv/Plovdiv-priema-poredno-golyamo-mezhdunarodno-kulturno-subitie-796605