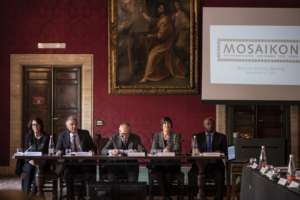 The 4th Regional Advisory Meeting of the countries participating in the MOSAIKON programme
was held in Rome on 3-6 March 2019. The meeting, organized by the ICCM Foundation and the
Getty Conservation Institute with the generous support provided by the Getty Foundation, took
place in the prestigious San Luca Academy in Rome. The Secretary General of the Academy,
Francesco Moschini, the Interim Foundation Director of the Getty Foundation, Joan Weinstein, the
ICCROM Director General, Webber Ndoro, the Associate Director of the Getty Conservation
Institute, Jeanne Marie Teutonico and the President of the ICCM Foundation, Roberto Nardi,
opened the meeting acknowledging the contribution made by the MOSAIKON partners to the
conservation and management of the mosaic heritage. Following that, the member countries of
MOSAIKON presented the results achieved in the three-year period 2016-18. Cyprus, Lebanon,
Jordan, Israel, Palestine, Egypt, Libya, Tunisia, Algeria and Morocco were represented by Directors
General of Antiquities, Directors of the conservation departments and/or Chief Technicians.
Members of the Getty Foundation, the Getty Conservation Institute, ICCROM and the ICCM
Foundation also participated in the meeting.
The concluding remarks of the meeting will soon be disseminated in a document, highlighting the
proposed strategies for the next three years aiming at enhancing mosaic conservation practice,
training of professionals and new-generation trainers, and promoting the management policies for
the preservation of mosaic heritage in Mediterranean countries. In the closing session, Roberto
Nardi announced that the organization of a three-year meeting of the Directors General of
Antiquities from the Mediterranean Region will be a new commitment of the ICCM Foundation
that will coincide with its triennial international conferences on mosaic conservation, already in its
XIVth run.
During the meeting participants had the opportunity to visit Villa Adriana and Villa d' Este in Tivoli, where they were received by the Director, Andrea Bruciati. The meeting ended with a memorable
ceremony at the National Etruscan Museum of Villa Giulia attended by the Director, Valentino
Nizzo.
Roberto Nardi
ICCM Foundation, President
Photo credits: Lo Guidice & Bufo (top), T. Katrakazis (bottom)